'Acquisition International' Finance Awards 2018
---
30 August 2018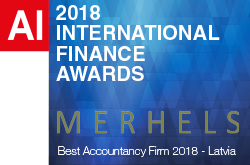 On 17 August 2018 'Acquisition International' (AI) has announced Merhels as the winner of the award 'Best Accountancy Firm 2018 - Latvia'. A link to the supplement and full recipient list HERE.
Focusing on a myriad of disciplines, AI awards recognise and pay tribute to all who fall under the umbrella of 'Finance'. From dedicated banking institutions and accountants, to the dedicated wealth and asset management firms – AI awards recognise the best each sector has to offer.
Awards Coordinator Kaven Cooper commented: "From the largest, international corporations, to the small firms and individuals, the International Finance Awards highlight only those who have proven themselves in this competitive and vital sector. I am proud of each and every one of my winners and wish them continued success over the years to come."
AI prides itself on the validity of its awards and winners. The awards are given solely on merit and are awarded to commend those most deserving for their ingenuity and hard work, distinguishing them from their competitors and proving them worthy of recognition.
Edvards Merhels, managing partner of Merhels, comments: "I am very proud for my team to receive the 'Best Accountancy Firm - Latvia' award, second time in a row. This is a significant achievement and, no doubts, we are well motived to go for the 'gold' as well next year!"
'Acquisition International' is a monthly magazine brought by AI Global Media Ltd, a publishing house that prides itself to having reinvigorated corporate finance news and reporting. AI works alongside leading industry analysts and has a global circulation.